petapeta-art
petapeta-art
 Handprint art: preserving memories of your child for a moment in time
What is "petapeta-art"?
petapeta-art® is handprint art based off children's hands and feet, designed by Sachie Yamazaki.
She has more than 60 original handprint designs such as trees, flowers and animals, and some of them are in her book "Oyako-de-tanoshimu Tagata-art"; handprint art for family fun (NIHONBUNGEISHA Co., Ltd).
(Petapeta-art has been registered with Japan Patent Office No.5952398.)
As of April, 2023, there are more than 2,100 certified "petapeta-art advisers" all over Japan, therefore you'll be able to find advisers in your local area and you can try and enjoy petapeta-art throughout Japan.
Petapeta-art has some unique characteristics such as soft colors and delicate decorations.
A handprint and a footprint have long existed not only in Japan but all over the world.
Japanese might imagine traditional colors like red and black are used to take a handprint, and people from different countries also might imagine primary colors are used for a handprint.
But petapeta-art changes these images completely, and uses soft colors like pink and light blue to take a handprint.
To take a handprint, petapeta-art recommends a stamp pad with water-based ink, so that you can take it easily and quickly rather than using acrylic paints. 
And it is also good for easy clean-up.
After taking a handprint, let's decorate it and make more fashionable and cuter art.
Petapeta-art uses Japanese washi tapes to decorate the handprint. There are a lot of colored Japanese washi tapes with designs, so you can make the handprint special art with ease and fun by using them even if you don't have good artistic taste.
And there are many ways to decorate handprint arts, including using various washi tapes and different types of pens, and including many types of messages.
It is so cute even to take a handprint and a footprint of your child.
By adding your original decorations to it , your individual masterpiece can be the only unique handprint art in the world.
The handprint artworks will help you be able to, of course, track your child's development. Moreover, it will be a single piece of artwork to give a grandparent or relative and it can be also function as a beautiful wall display.
Here are some impressions from our events.
"It's great fun making a handprint art!"
"I had good time making a handprint art with my kid."
"The family handprint art is so adorable!"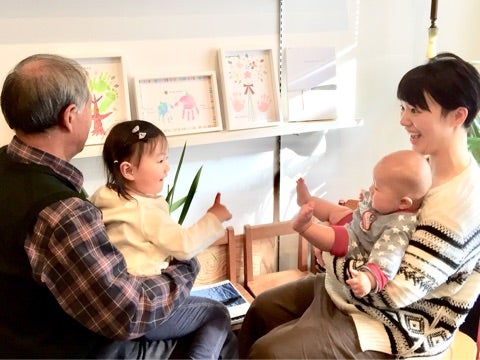 Therefore, you can see petapeta-art is not only cute and fun handprint art that is easy to make but it also teaches you how much you love your kids.